hanpuru,' a mixture of Okinawan and American cultures. The remains of the Ryukyu Kingdom welcome every visitor from other parts of Japan.
The area between Urasoe, the northern neighbor of Naha, and Yomitan-son Village in the central part of Okinawa Main Island is marked by the highest concentration of U.S. military facilities, which include the Futenma Airfield and the Kadena Air Base. Route 58 is lined with drive-ins, secondhand interior goods shops, shops dealing in used U.S. military goods, and other shops, most with English language signs. This area has been strongly influenced by the United States and is the origin of 'Chanpuru' (mixed), a unique mixture of cultures including Okinawan and American.
The city is the center of Chanpuru culture. Many Americans can be found walking along Chuo Park Avenue, as well as Koza Gate-dori Street on which Gate 2 of Kadena Air Base is located. On weekend nights, this area resonates with a cacophony of music as many live music venues compete with each other, playing various types of music such as American Rock, J-Pop (Japanese Pop), Oldies and Shima-uta (island songs).
The Water Front Area at Chatan is popular among local young people and tourists. There you will find Hambee Town which is well known for the weekend night market, and the American Village where you can enjoy shopping in a large shopping center or imported goods shops and eating at American-style restaurants. Furthermore, there is a beach near the American Village where beautiful sunsets can be seen, making it a popular hangout for young people in the summer.
Another characteristic of central Okinawa is the abundance of historical remains. They include the remains of Katsuren Castle in Uruma, inscribed as a World Heritage Site, the remains of Zakimi Castle in Yomitan-son Village, as well as the remains of Nakagusuku Castle in Nakagusuku-son/Kita-Nakagusuku-son villages. Also in Kita-Nakagusuk-son Village is the old Nakamura Residence, built in the middle of the18th century and designated as an Important National Cultural Asset.
Moreover, there are many tourist attractions such as Murasaki-mura where visitors can experience Okinawa Karate, Eisa dancing, Ryukyu dancing and Sanshin (a traditional Okinawan 3-string instrument) music, as well as Bios on the Hill, a natural botanical garden which makes use of the subtropical climate of Okinawa.
Directions
From Tokyo :
[Air] 2h 35 min from Haneda Airport to Naha Airport.
From Osaka :
[Air] 2h from Kansai International Airport to Naha Airport.
From Nagoya :
[Air] 2h 15 min from Chubu International Airport to Naha Airport.
From Kyushu :
[Air] 1h 35min from Fukuoka to Naha Airport.
11 min from Naha Airport to Asahi-bashi (next to Naha Bus Terminal) by monorail. 1h from Naha Bus Terminal to Okinawa City by bus. 45 min to Chatan by bus.
Local Attractions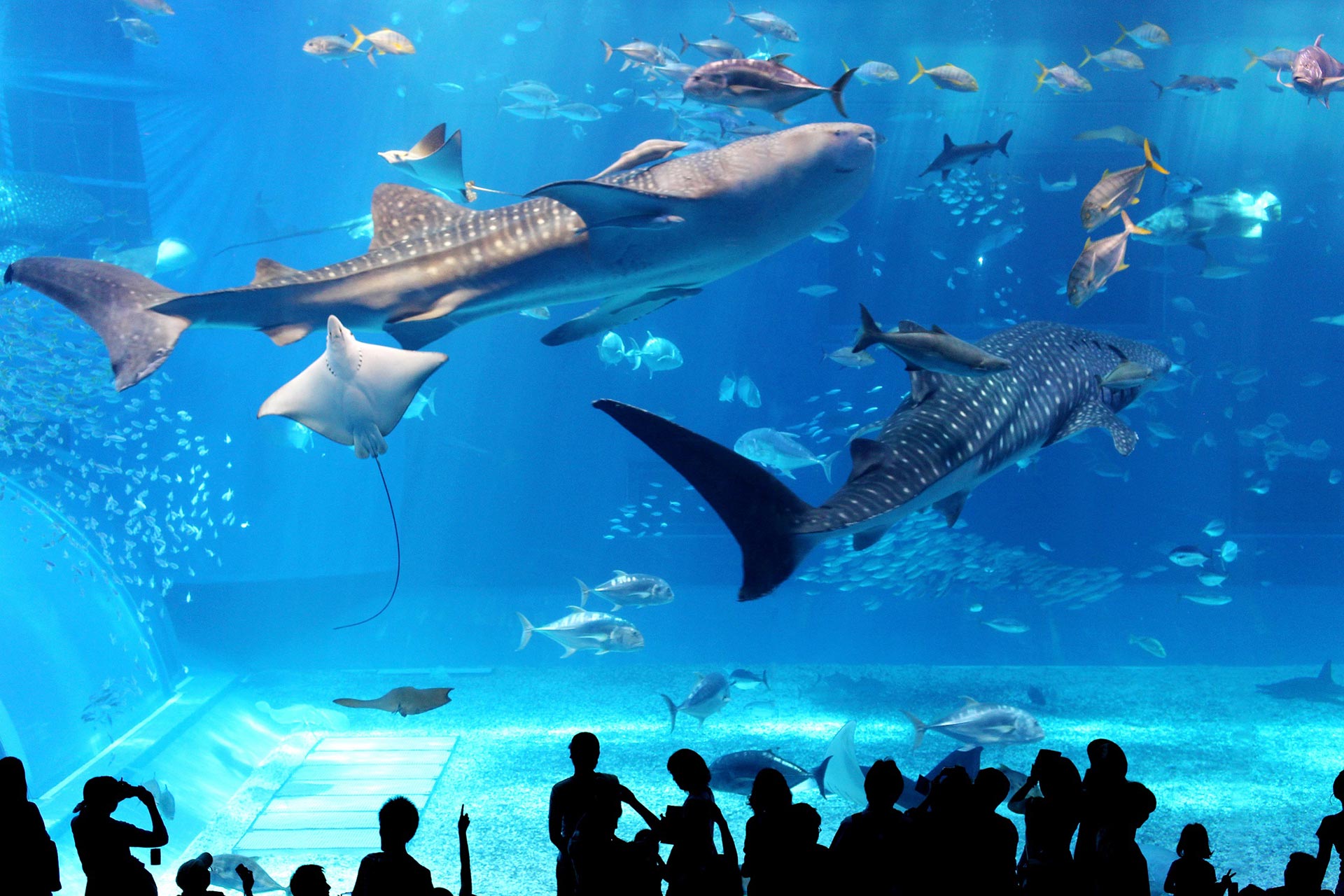 Churaumi Aquarium
The highlight of a visit to the Churaumi Aquarium is the massive Kuroshio Tank, one of the largest in the world. The tank contains a wide variety of species, the most striking of which is the giant whale sharks and manta rays.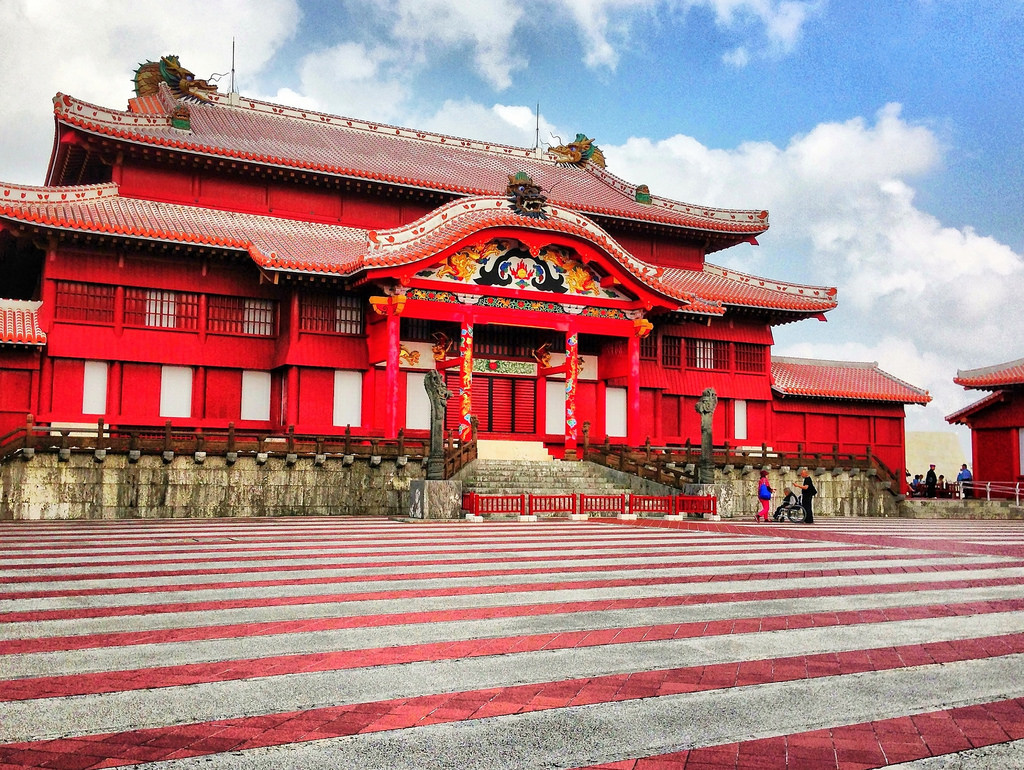 Shuri Castle
A city district of Naha today, Shuri is the name of the former capital of the Ryukyu Kingdom. Shuri Castle is included as one of the UNESCO World Heritage designated castle of the Ryukyu Kingdom.

Nago Pineapple Park
Pineapples have been cultivated in Okinawa as an agricultural product for a century. The admission ticket includes a ride on an automatic vehicle through pineapple fields and tropical garden.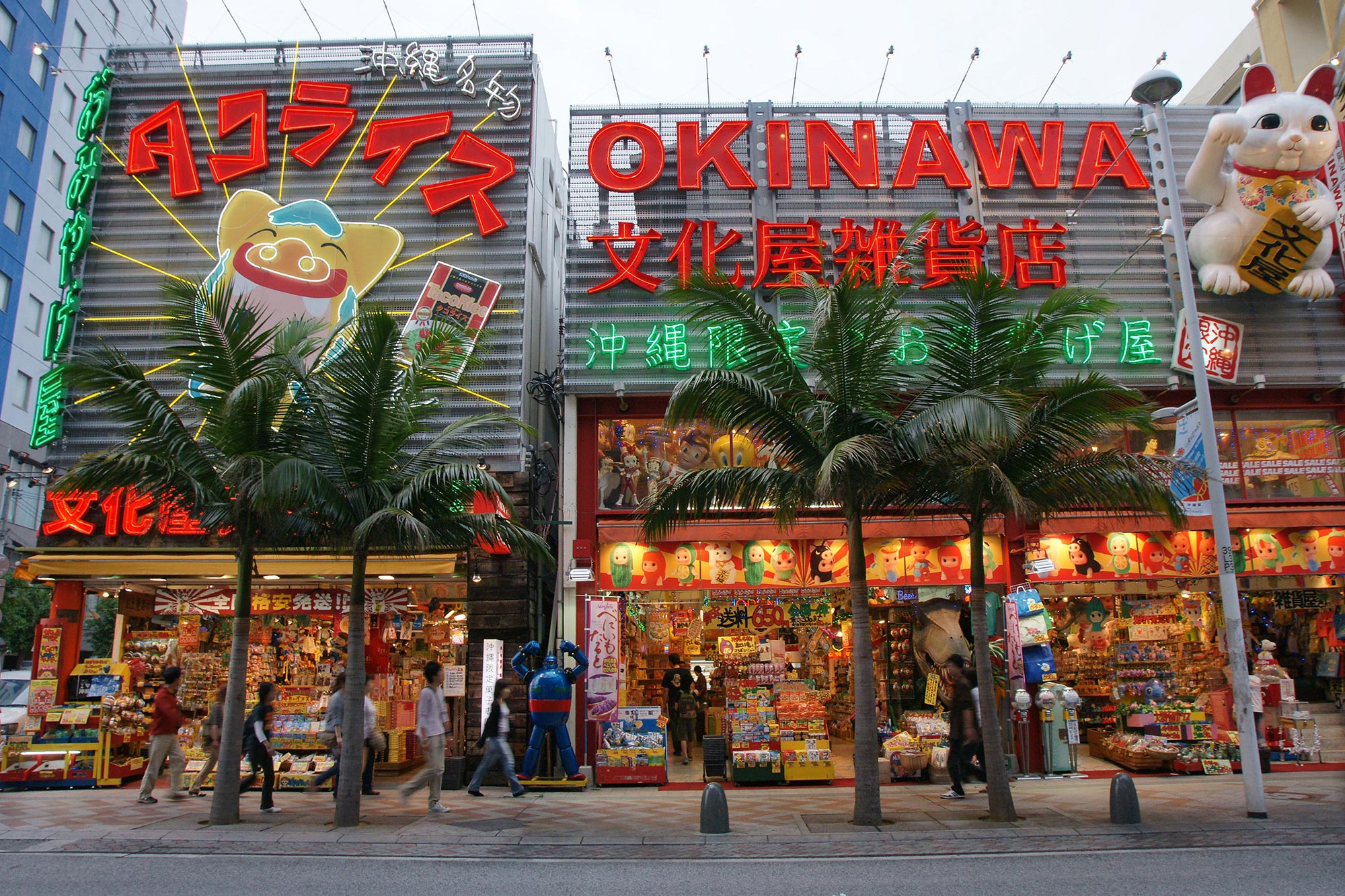 Kokusai-dori Street
Kokusai (lit. International)-dori street is Naha's main shopping street, stretching for roughly 2km though downtown Naha. they sell everything from original Okinawa-made crafts, major department stores.
Local Food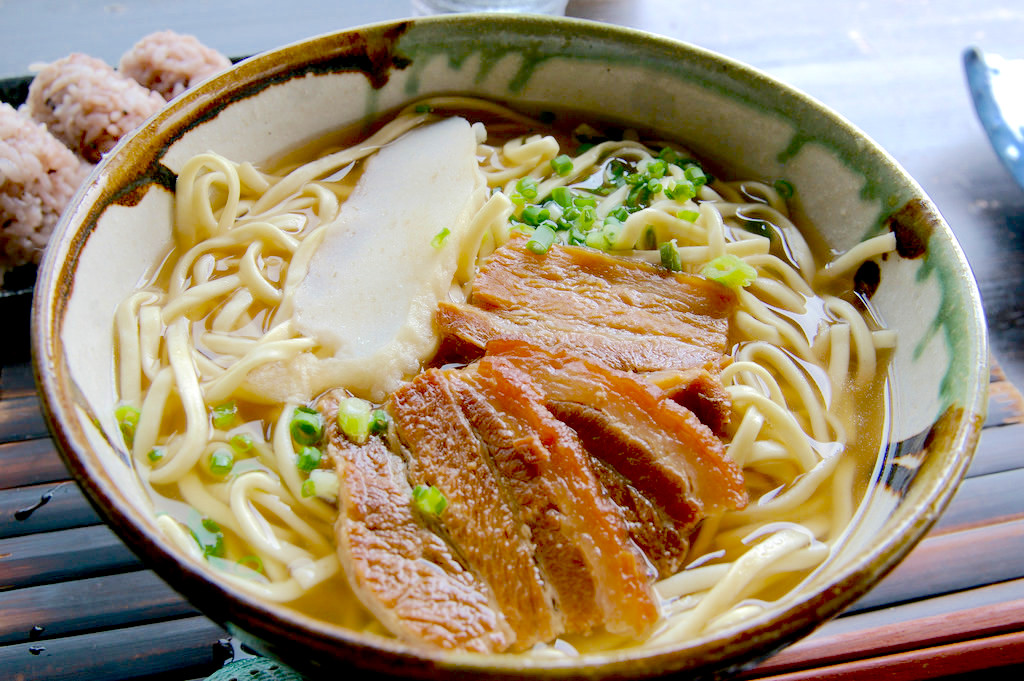 Okinawa-soba
Okinawa-soba is similar to ramen noodles, A common topping is soft boiled pork, in which case the dish is called Soki-soba, but there are other varieties. The dish generally also includes green onions, kamaboko (fish cake) and red pickled ginger.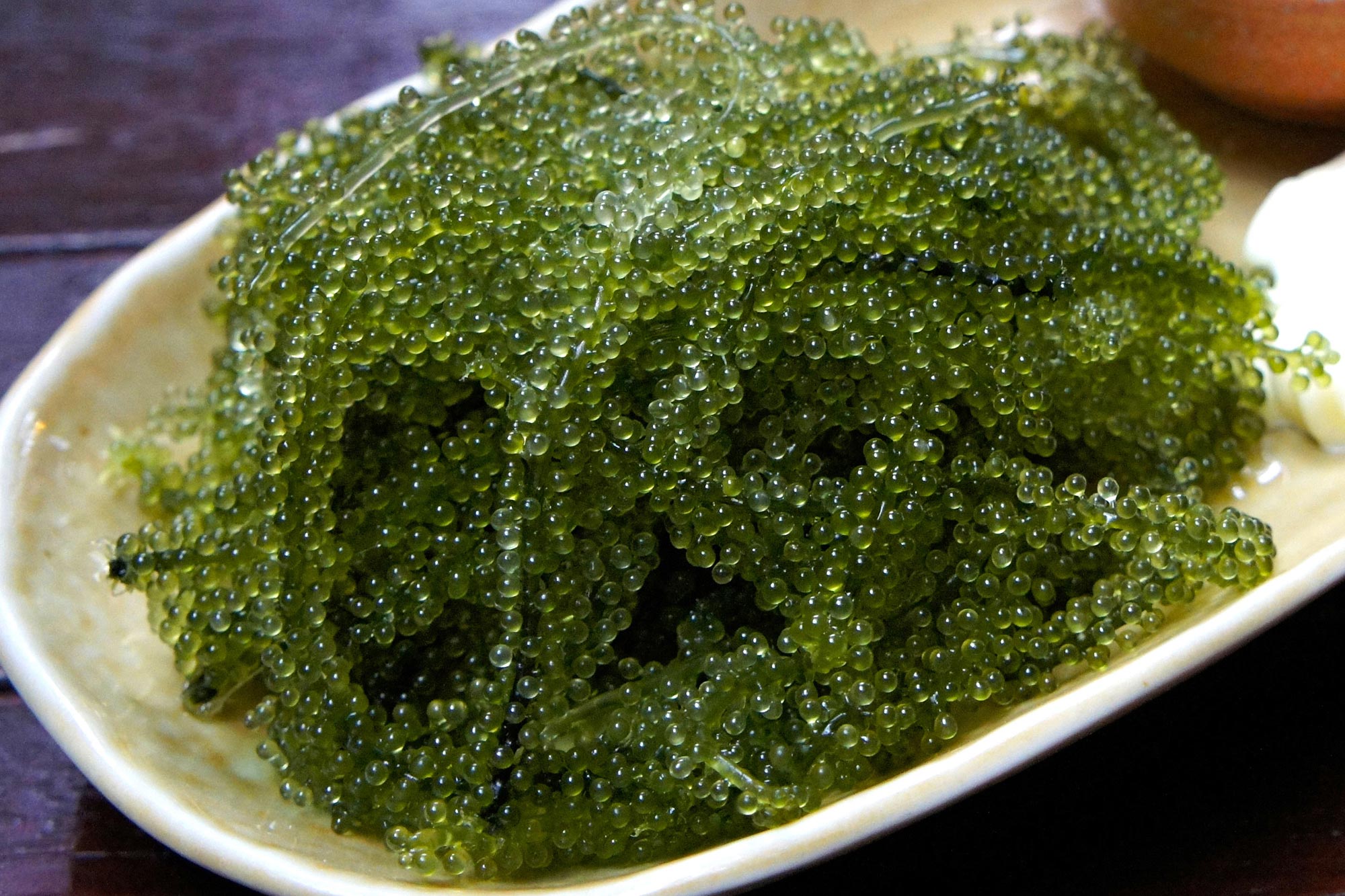 Umi-budou
Umi-budou (lit. sea grapes), this type of seaweed does indeed resemble grapes on a miniature scale. Each little umi-budou ball has a soft skin that releases a salty liquid when bitten.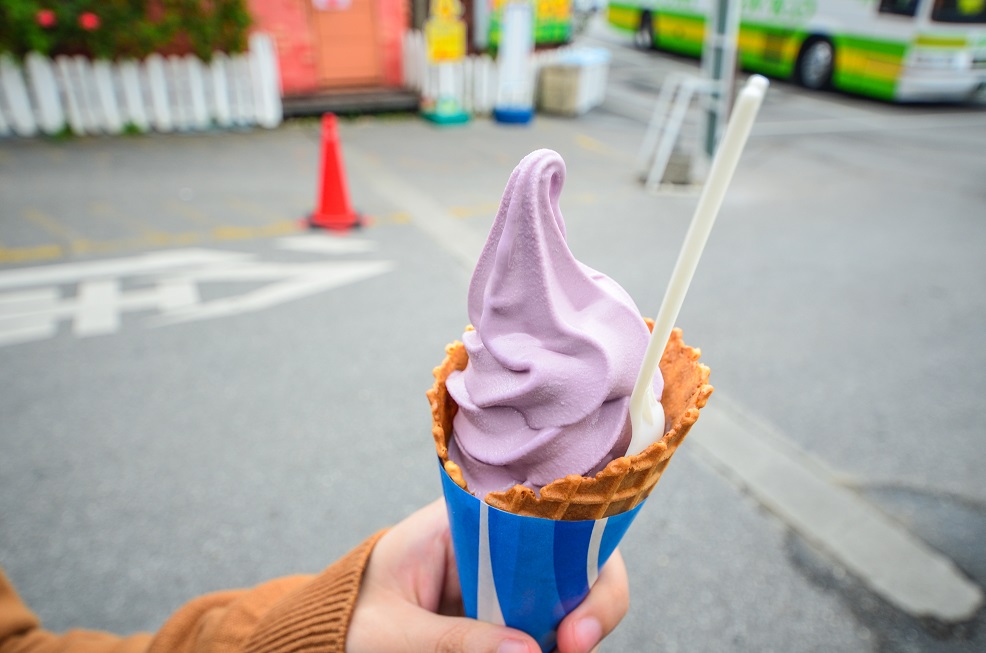 Blue Seal Ice-Cream
This ice-cream brand was established in the Tengan Military Base of Uruma City to provide essential dairy products to military officials stationed in Okinawa.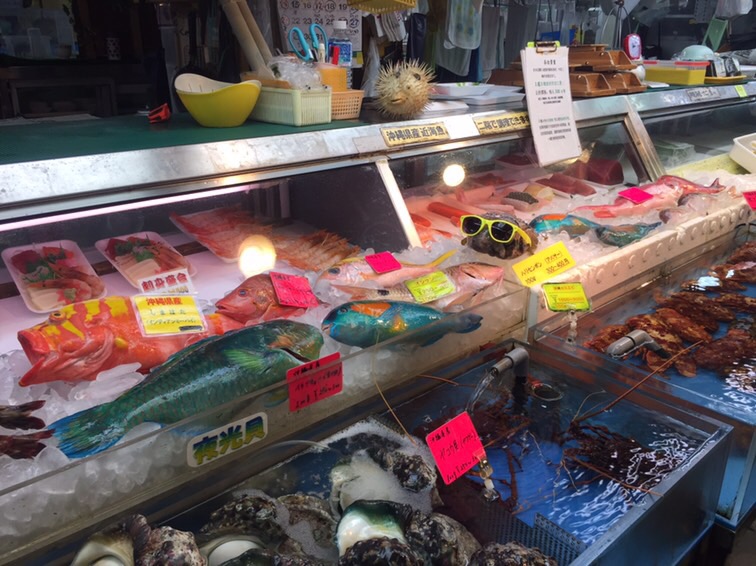 Makishi Market
The kitchen of Okinawa "Makishi Market" has a variety of Okinawa's traditional foods such as; dried sea-snake, pork ear, and more. Upstairs from the market is some restaurants which will cook the items bought in the market for you.