About Kanazawa & Takayama
Kanazawa is made up of three hills, the Kodatsuno Plateau that stretches southeast between the Asano-gawa and Sai-kawa rivers and Mt. Utatsu-yama and Teramachidai, which spread out on both sides. It is the center of culture, economy & commerce in the Hokuriku region. Kanazawa was a great castle town has prospered for some 300 years since the feudal lord Maeda Toshiie built a castle here in the late 16th century. Kanazawa has not suffered from any war devastation or big natural disasters. Thus, Kanazawa has maintained rows of historical houses and various traditional handicrafts and traditional performing arts.
At the center of the city lies the Kenroku-en Garden, famous for the "Yukitsuri," ropes stretched from the top of a tree to the lower branches like an umbrella to protect it from snow damage. Kenroku-en is one of the three most famous gardens in Japan, along with the Kairaku-en Garden in Mito and the Koraku-en Garden in Okayama. Beginning in 1676, it took about 170 years to construct the 105,000-square-meter garden.
Kanazawa has Tera-machi, where 70 temples are gathered together, Owari-cho lined with long-standing stores, and many other historical districts, which happily blend with the modern, fashionable town of Korinbo. It offers a variety of attractions. Many shops carry "Kaga-yuzen," dyed silk designated an important intangible cultural asset, Kutaniyaki pottery characterized by placid patterns and vivid colors, gold leaf craftwork called "Kanazawa-haku," and other traditional arts and crafts.
The climate of Kanazawa is almost as mild as that of Tokyo or Osaka. There are few days with temperatures below freezing between December and February. However, there are few days of fine weather, and the snow often piles up.
A picturesque town with one of the three most beautiful festivals in Japan.
Takayama is located in northern Gifu Prefecture. It is most famous for the Sanno-machi Historic District and the biannual Takayama Festival, which has been designated as one of Japanís most beautiful festivals. During the festival, intricately crafted festival floats are displayed in the city. The floats themselves are a testament to the regionís history and a chance to see the culmination of hundredís of years worth of artistry and craftsmanship. The Takayama Festival is held in the spring and fall every year and is attended by thousands of visitors from all over Japan and the world.
Hida Takayama Matsuri no Mori and the Yatai Kaikan are two recommended museums, visitors interested in the Takayama Festival and local artistry are sure to enjoy.
Images of life on farming villages in the Hida region are on display at the Hida Folk Museum (Minzoku-kan).
Hida no Sato is an outdoor museum that displays traditional architecture and thatched roof-houses, some of which have been relocated from the UNESCO World Heritage Site Shirakawa-go.
Every morning a farmerís market is held along the Miya River and in front of Takayama Jinya. Local farmers and craftsmen sell everything from vegetables to carvings and clothes.
There are many ski resorts in the Takayama area, which are open during the winter months. The nearby mountains, such as Mt. Norikura are popular for sightseeing and trekking. Additionally the World Heritage Site Shirakawa-go is just a 50 minute bus ride away.
Access from Tokyo:
[Air] 1 hour from Haneda to Komatsu Airport (All Nippon Airways).
[Rail] 2 hour 30 minutes from Tokyo to Kanazawa by JR Hokuriku Shinkansen.
Access from Osaka:
[Rail] 2 hours 30 minutes to Kanazawa Station by JR Hokuriku Line (limited express).
Access from Sapporo:
[Airl] 1 hour 35 minutes to Komatsu Airport (All Nippon Airways).
Access from Nagoya:
[Rail] 3 hours to Kanazawa Station by Shirasagi (limited express).
Access from Nagano:
[Rail] 1 hour 10 minutes to Kanazawa Station by JR Hokuriku Shinkansen.
Local Attractions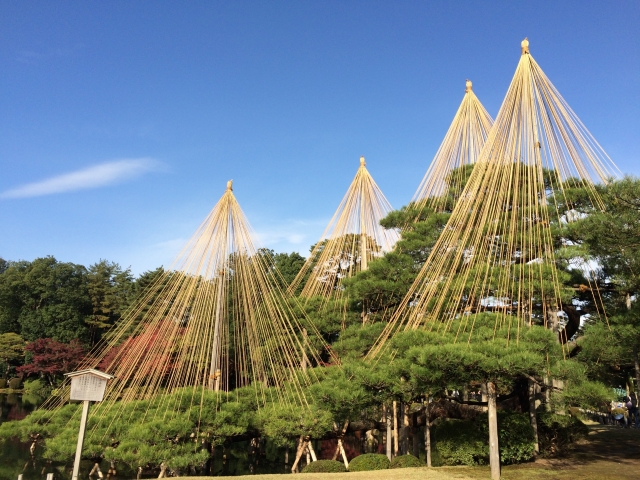 Kenroku-en Garden
Kenroku-en is justifiably classified as one of Japan's "three most beautiful gardens". Kenroku-en features a variety of flowering trees which provide the garden with a different look for each season.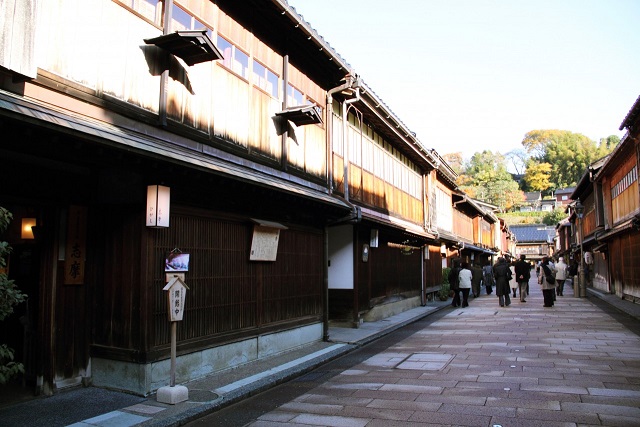 Higashi Chaya District
Chaya (lit. teahouse) is an exclusive type of restaurant where guests are entertained through dance and music by geisha since the 17th century.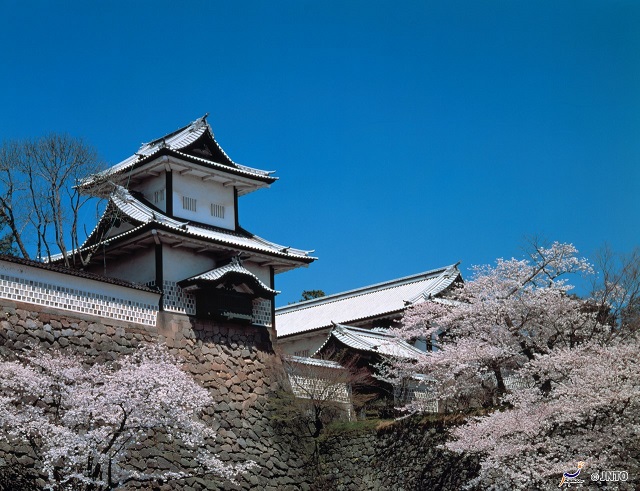 Kanazawa Castle
The castle is adjacent to Kenroku-en Garden, which was once the outer private garden of the castle.
Local Food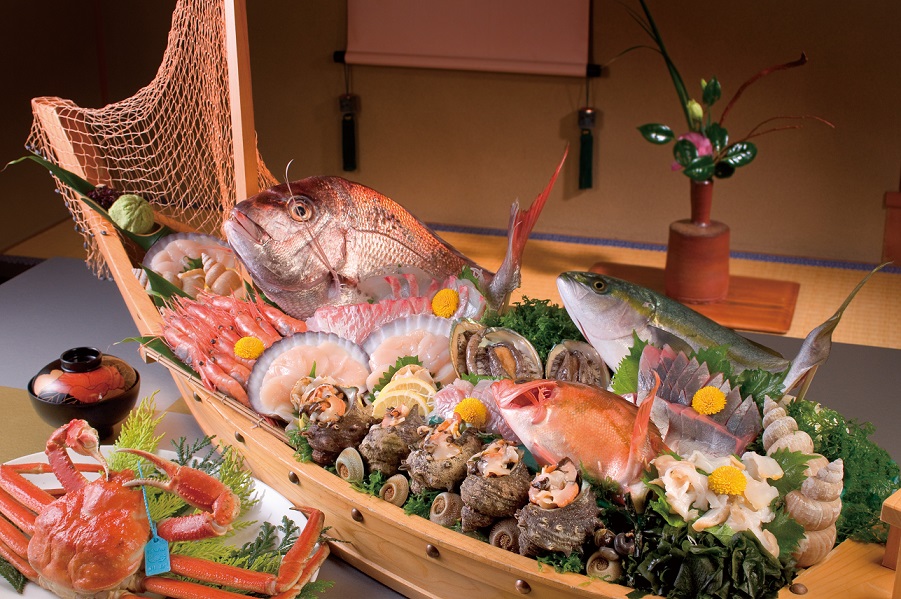 Kaga Cooking
Kanazawa is blessed with a rich and variety of cuisine for all seasons, favourite climate. volcanic soil and natural mineral water produced delicious products such as rice cropped in Kaga plain, vegetables and seafood caught in the sea of Japan.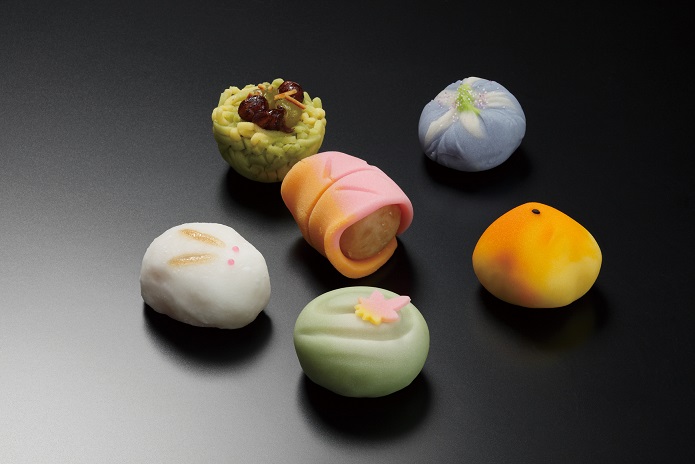 Japanese Sweets
Kanazawa is one of the three most famous Japanese place of confectionery making. They develop confectionery indispensables†to the tea ceremony.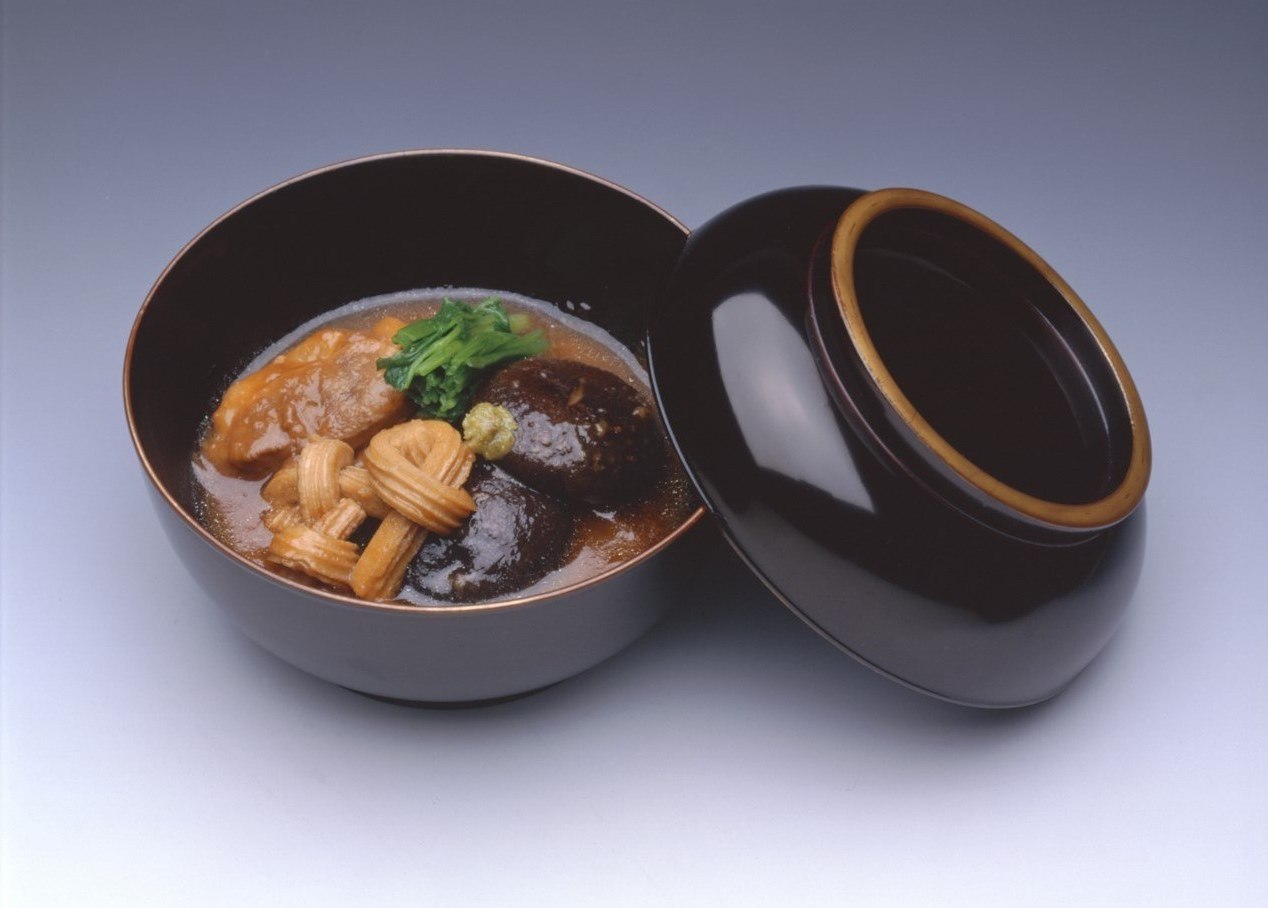 Jibuni
Jibuni stew is a Kanazawa local dish. It is made using duck or chicken coated in flower or starch and shiitake mushrooms, seasonal vegetable in thick soup with wasabi as the finishing touch.