Experience one of Japan's finest sports and a source of national pride, sumo wrestling at the Grand Sumo Tournament in Kyushu. For more information about the rules and history of sumo click here.
Box Seat Type

 Maximum 

 Capacity *

Price for 2

Price for 3

Price for 4

Category B
4 
$355 pp
$239 pp
$179 pp
Category C
4 
$315 pp
$209 pp
$159 pp
 *For your comfort, we recommend sharing between 2 persons.
| | | |
| --- | --- | --- |
| Box Seat Type | Row | Distance to Dohyo |
| Category B |  9 - 10  | 21.55m - 27.9m |
| Category C | 11 | 28.35m - 33.00m |
Example Seating: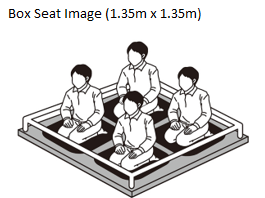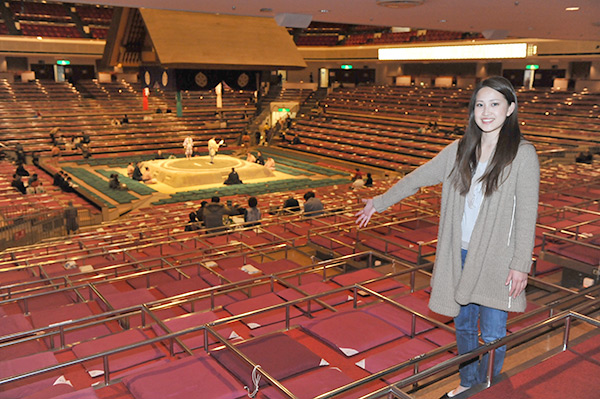 Extras:
A special photo corner is available, as well as a free special photo frame where you can select your favourite wrestler to be included in the photo.
B: Breakfast | L: Lunch | D: Dinner
Day 1
Fukuoka Kokusai Centre
08:15: Fukuoka Kokusai Centre entrance opens.
08:25: Maezumo - The new apprentice sumo. called maezumo demonstrate their skills. (3rd day of tournament onwards)
08:35: The third, fourth, fifth and lowest division sumo start their bouts. After the 13th day of the tournament this will commence from 10:00AM.
12:50: The high performing rikishi receive their new titles in the Jonokuchi division.
14:15: A sumo is considered a professional once he becomes a juryo. Watch as the juryo come into the dohyo. 
14:35: Watch the juryo clash as the young up-comers and  veterans compete to reach to makunouchi (the highest division).
Greeting from the Japan Sumo Association to the audience.
15:40: The makunouchi enter the dohyo. These are the highest ranked rikishi.
15:55: The yokozuna enter the dohyo. The yokozuna is the highest ranked rikishi of all.
Short break after the yokozuna entering the dohyo.
16:10: The makunouchi finally compete. Watch the heated battles of the most popular and strongest rikishi. After 17:00 the komusubi, sekiwake and ozeki enter the stage. (4th, 3rd and 2nd ranked rikishi)
17:15: The last three rikishi of the day perform a special performance only on the last day of the tournament.
17:55: End of the day.
Ceremony for the victor of the tournament. This only takes place on the last day of the tournament.