Participate in a traditional tea ceremony

Relax in a hot spring

Step back in time and visit a traditional thatched roof village

Experience local food culture dating back to vintage Osaka
| | | |
| --- | --- | --- |
| Departure Date |  Twin Share  |  Triple Share  |
| Daily |  $4,999 |   $4,849 |
* Above prices are land only and do not include airfares. 
* Seasonal surcharges may apply. 
* Minimum of 2 people required for tour to operate 
B: Breakfast | L: Lunch | D: Dinner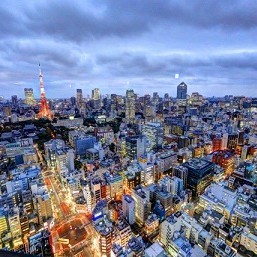 Day 1
Tokyo
Upon arrival at Narita or Haneda Airport, take a shared shuttle to your accommodation. 

Overnight at Shinjuku Washington Annex Hotel or similar (3 star)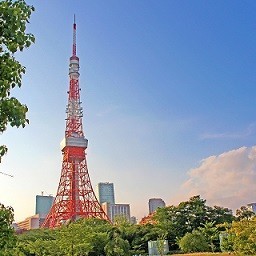 Day 2
Tokyo (B,L)
After breakfast, start the Dynamic Tokyo Tour by firstly visiting Tokyo Tower. Then, join in a traditional Tea Ceremony followed by a Japanese-style lunch at a local restaurant. In the afternoon, proceed to the Imperial Palace Gardens and take the Sumida River Cruise and see Azumabashi Bridge. Finally, head to the old downtown area of Asakusa to see Senso-ji Temple and Nakamise Shopping Street.

Overnight at Shinjuku Washington Annex Hotel or similar (3 star)
Day 3
Tokyo (B)
After breakfast at your hotel, enjoy a full free day in Tokyo at your leisure.

Overnight at Shinjuku Washington Annex Hotel or similar (3 star)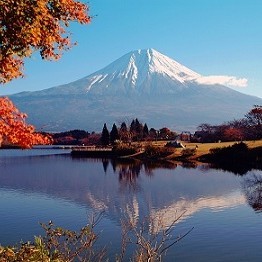 Day 4
Tokyo - Mt, Fuji - Hakone (B, L, D)
After breakfast, your main suitcase will be transferred directly from Tokyo to your hotel in Kyoto. Be sure to pack a bag for your stays before Kyoto. Travel by coach up to 2,300 metres on Japan's highest mountain, Mt. Fuji, and soak up the spectacular view. After lunch at a local restaurant, take a sightseeing cruise on Lake Ashi and ride the Mt. Komagatake Ropeway. After the tour, transfer from Hakone-en to your accommodation.
Overnight at Hakone Pax Yoshino or similar (3 Star Hotel)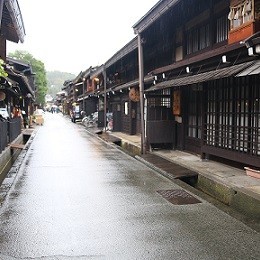 Day 5
Hakone - Takayama (B)
Depart your ryokan after breakfast, then head to Odawara to catch the Bullet Train to Nagoya. From Nagoya, take the limited express train to Takayama. After your arrival in Takayama, the rest of the day can be spent at your leisure.
Overnight at Hida Hotel Plaza or similar (3 Star Hotel)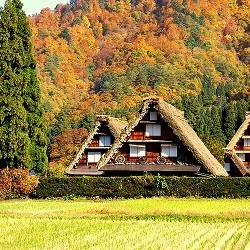 Day 6
Takayama - Shirakawa-go - Kanazawa (B, L)
Following breakfast, join the Takayama Shirakawa-go 1 Day Tour, visiting the famous markets of Takayama before proceeding to the World Heritage village of Shirakawa-go. Step back in time as you explore the traditional thatched roof houses of the Wada Residence. After lunch, continue by bus to Kanazawa. 
Overnight at Hotel Kanazawa or similar (3 Star Hotel)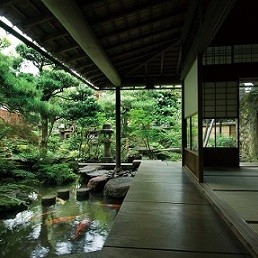 Day 7
Kanazawa - Kyoto (B)
After breakfast, head to Kaikaro Teahouse for a relaxing day tour where you will try authentic green tea and gold leaf garnished Japanese sweets. In the afternoon, board the limited express train from Kanazawa to Kyoto and make your own way to your  accommodation.
Overnight at Karasuma Kyoto Hotel or similar (3 Star Hotel)
Day 8
Kyoto – Nara - Kyoto (B, L)
Following breakfast, tour the sites of Kyoto, visiting the Kinkaku-ji Temple, Nijo Castle and Kyoto Imperial Palace. After lunch, travel to Nara to visit Todai-ji Temple, home of the Great Buddha and the famous Nara Park, where many tame deer roam freely. Lastly, visit the colourful Kasuga Taisha Shrine with its 3,000 lanterns. 
Overnight at Karasuma Kyoto Hotel Kyoto or similar (3 Star Hotel)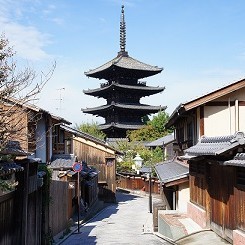 Day 9
Kyoto (B)
Enjoy breakfast at your hotel, then spend a full day at your leisure in Kyoto.
Overnight at Karasuma Kyoto Hotel or similar (3 Star Hotel)
Day 10
Kyoto (B)
After breakfast, enjoy a morning tour of Fushimi, visiting Gekkeikan Sake Museum to enjoy Sake tasting. (Note: In Japan, drinking of alcohol by persons under the age of 20 is prohibited. Whilst participants under the age of 20 may join this tour, they will be served non-alcoholic beverages.)Visit Fushimi Inari Taisha Shrine, famous for the walkway of 1,000 orange Torii gates. The afternoon is free to spend at your leisure. 

Overnight at Karasuma Kyoto Hotel or similar (3 Star Hotel)
Day 11
Kyoto - Hirsohima - Kyoto (B)
After breakfast, catch the Bullet Train from Kyoto to Hiroshima, where you will meet your guide. Your guide will show you the highlights of Hiroshima including Miyajima Island, Itsukushima Shrine, the Peace Memorial Park and Museum and the legendary Atomic Bomb Dome. As the tour concludes, take the Bullet Train
from Hiroshima back to Kyoto. 

Overnight at Karasuma Kyoto Hotel or similar (3 Star Hotel)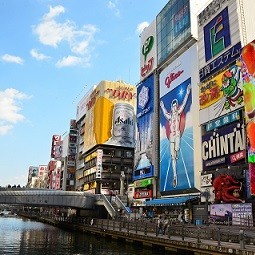 Day 12
Kyoto - Osaka (B)
After breakfast, make your own way to Osaka by train.
Overnight at Osaka Fujiya Hotel or similar (3 Star Hotel)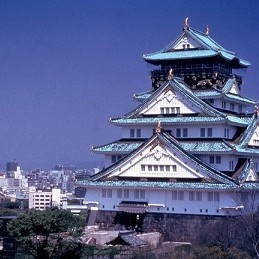 Day 13
Osaka (B)
Enjoy breakfast, followed by a full day at your leisure in Osaka. Alternatively, you may like to add one of the many available day tours in Osaka.
Overnight at Osaka Fujiya Hotel or similar (3 Star Hotel)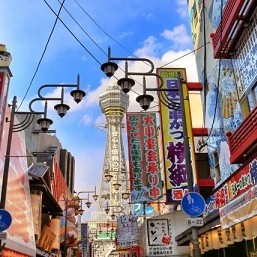 Day 14
Osaka - Kansai Airport (B)
Following breakfast, spend part of the day in Osaka at your leisure until it is time to depart to Kansai Airport via train.
*Return to Tokyo can be arranged at an additional cost.
Hotel: Tokyo (3 nights), Hakone (1 night), Takayama (1 night), Kanazawa (1 night), Kyoto (5 nights),Osaka (2 nights)
Meals: 13 Breakfasts, 5 Lunches, 3 Dinner
Guide: English speaking guide included on day tours only
Transportation: One-way Tokyo airport shuttle transfer; One-way Kansai Airport train ticket; Japan National Rail Pass 7 Days (Day 5-11)
* Costing may vary  depending on the exchange rate, the final rate will be confirmed at time of booking confirmation.
* The above itinerary is subject to availability
* For full terms and conditions, please contact our travel specialists.

Day2 : Dynamic Tokyo Tour
*At Tokyo Tower, only the main deck (150 m) will be visited. An additional admission fee is required to access the top deck (250 m). Those who wish to enter must pay the required charges at the location.
*Cherry Blossom Season (around mid-March - early April)
- As the schedule of Sumida River Cruise will be altered, arrival time may be delayed.
- The Sumida River Cruise ride may be switched to cherry blossom viewing at Sumida Park due to congestion.
*The order of activities and arrival times may differ depending on road conditions and congestion at destinations.  
*Children under age 6 may participate for free, but will not be provided with their own bus seats and must sit on the lap of their parent or guardian. If a seat on the bus is required for the child, please make a booking at the Child rate.
 
Day 3 Retro Shibuya & Day 12 Shinsekai Night Food Walking Tour
People who have allergies and dietary restrictions may join the tours; however please keep in mind that we cannot make a 100% allergy free food guarantee since all the food is prepared in the same kitchens that do not belong to Arigato Japan.  Cross-contamination / Cross-contact is possible. Most restaurants in Japan are unfamiliar and unable to make provisions for serious cross-contact allergies.

Day 4 : Mt. Fuji & Hakone Tour
- Participants on this tour may ride along with other customers.
*The taxi boarding location is Hakone-en. The Prince Hakone Lake Ashinoko and Ryuguden can be reached on foot.
- If Mt. Fuji's 5th Station cannot be reached due to road surface freezing, an accident on the Fuji Subaru Line, or weather conditions, the tour will be taken to the highest elevation point possible. No alternative destinations are planned when the tour reaches beyond the 1st Station. When the tour has to turn back at the 1st Station, or when the Fuji Subaru Line is completely blocked, the tour will visit Fujisan World Heritage Centre or Lake Kawaguchi Oishi Park. Please note that an alternative itinerary may also be omitted depending on road conditions.
- Due to weather conditions, Mt. Fuji may not be visible even from the base. However, the tour will not be cancelled and refunds will not be given for this reason.
- If the Lake Ashi Cruise or Komagatake Ropeway are not running due to inclement weather or maintenance, or as a result of road or organization circumstances, they may be omitted and replaced with one or more of the following:
Hakone Venetian Glass Museum, Hakone-en Aquarium, Hakone Ropeway, Hakone Pirate Ship, Narukawa Art Museum, Hakone Checkpoint, Lake Kawaguchi Cruise, Lake Kawaguchi Ropeway, Itchiku Kubota Art Museum, Hakone Shrine, etc., but this will not be used as a reason to cancel the tour, and refunds will not be given for this reason.
- On the day when the annual Mt. Fuji Hill Climb is held, which is usually on a weekend in June, the Fuji Subaru Line is closed until around 14:00. The tour will proceed on this day, and will head to Mt. Fuji 5th Station once the road is open to traffic. Because of this, there will be changes to the itinerary order and sightseeing locations. Please note that the Komagatake Ropeway and Lake Ashi cruise will be changed to alternative itineraries. Furthermore, please note that refunds will not be issued in this case, and customers will not be notified separately when the schedule has been determined.
- Arrival time at Hakone-en may vary depending on the season and day of the week due to traffic conditions, and may be considerably delayed. Thank you for your understanding.
- The order of the tour itinerary is subject to change due to road conditions or other reasons.                   

Day 7: Kanazawa Historical Walking Tour
 - Bus ticket transport (¥500 ($5) for one day unlimited travel. Your guide will tell you where to buy.)
- Please note that if you are late for more than 15 minutes than meeting time (10 mins before the tour starting time), you will not be able to join the tour, get refund or rescheduled.

Day 8. Kyoto Perfect Tour
- All the contents of the itinerary is subject to change due to weather, traffic operation, and operational reasons on the day.
- If any place is closed, we will try to attend to alternative places.
- Customers will walk include stairs and hills in each places.

Day 10. Nara Half Day Walking Tour
- Though we walk with a few short break during the tour, let us know beforehand if your group members are worried about their health problem.
- If you're vegetarian or want gluten free lunch, just contact us before the tour date. We might not be able to serve you the lunch plate for you if you have some restriction about the food.
- Please bring some cash if you need additional snacks and drinks.
- Out of respect for our other guests and to ensure the best tour for everyone, we must start the tour on time.

Day 11. Hiroshima & Miyajima Tour (Depart : Hiroshima)
Tour itinerary may be changed / deleted subject to the traffic / weather conditions.
* Manner of transportation (mini bus, taxi, train or tram) between Hiroshima and Miyajima will vary depending on the number of participants.
* Lunch is not included in the tour. Please have lunch on your own at Miyajima.

More Japan Travel Packages